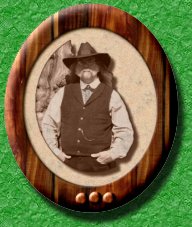 Web Site designs, designed by "Tom Too Cool" to fit the theme of the area. Oatman, Arizona an old Gold Mining Ghost Town that offers tourists a definite day of fun. Wild Burros roaming the streets of Oatman and while they beg for food from years of tourists and townspeople feeding them now BLM discourages the feedings of these burros. There will be more information available sometime in the future and at the moment there is no law against feeding them there soon will be and a fine for feeding them is possible.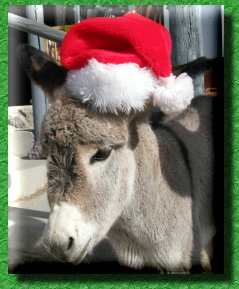 Also besides the Wild Burros there is the Semi Wild Gunfighters. Oatman Ghost Rider Gunfighters hit the streets daily for a Wild West Shootout at 1:30 and 3:30 pm (3:30 depends on weather and amount of tourists). They also occasionally "Hold Up the Stage" (Tour Busses) which is a sure shot at a whole lot of fun!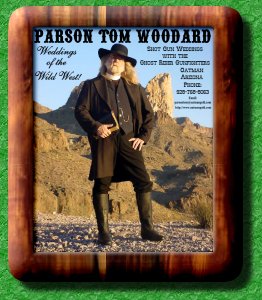 Parson Tom, ordained through the Home Mission Church, officiates real Wild West Shot Gun Weddings. Cowboys drag the Groom to the Arbor to his waiting Wife to be by shot gun... then there is the Bride Surprise. Fun for all but when it is time for the vows it gets serious. Parson Tom has put together a set of vows reminiscent of the Old Wild West of the 1800's.
Gift shops of Oatman, Arizona on Historic Route 66, open daily 7 days a week and year round, rival none in unique gift items and hand made jewelry, wood carvings, metal artwork, paintings and hand painted signs, Old Time Photos, dress in costumes of the Old Wild West and get'cher picture taken! There are 2 restaurants and 2 bars if you are looking for something good to eat, drink or snack on. The Oatman General Store not only has groceries but a wide variety of gift items, books and especially noted for their Christmas Ornaments and much more. Making Memories Old Time Photos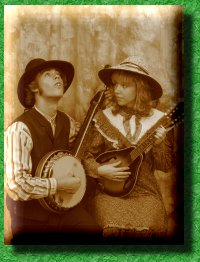 offers a great time Making Memories by taking your photo after dressing you up in authentic clothing of the Wild West!
Oatman, Arizona authentic western ghost town and mining camp located on the longest stretch, 167 continuous miles, of Historic Route 66. Complete with historic buildings, museums and unique gift shops nestled into the surrounding scenic towering mountains. Oatman is located on Historic U.S. Route 66, the trail of the people who migrated in their Model T's from the Midwest. And Oatman is located right in the middle of things by being 25 miles southwest of Kingman, Arizona; 25 miles northeast of Needles, California; 25 miles southeast of Bullhead City, Arizona; 30 miles southeast of Laughlin, Nevada and 54 miles to the north of Lake Havasu City, Arizona and all accessible by good paved roads.

TOM TOO COOL WEB DESIGNS
Tom & Linda Woodard
Phone: 928-234-0344



Updated March 19th, 2014
† Tom Too Cool Web Designs ™ Tom & Linda Woodard Oatman, Arizona on Historic Route 66. †